Traditional Aikido in Petaluma for kids and adults!
Kid's Aikido class on Saturday 9am -10am  for kids ages 5-14!
and Adult classes 8am-9am on Saturday
Sunday 10am-11am/12pm-1pm adults/11am-12pm kids
Classes will be held at Esteem Bjj 610 E.Washington st. 94952.
For more information on enrollment contact
Sensei Paul Olszewski
Nidan 2nd degree black belt @ (707) 239-2237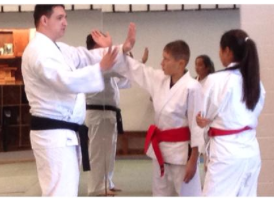 Paul Olszewski
2nd dan Aikiai, with experience in a brazilian jiu jitsu, goju ryu karate, Tae Kwon Do and boxing.  Paul got his start in Aikido training under Kennedy Sensei and Nathan Feileacan at T.A.O.S. and has been teaching the Kid's Aikido program since 2008.